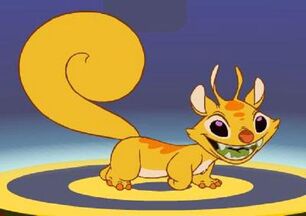 Spats is an alien made by Jumba. He is experament 397. A small yellow squirrel-like creature with cat-like ears, orange markings on his back, small pointed antennae, orange spots on his forehead and two prongs on his tail. Designed to make people fight with each other. The cure for this is to stop and count to ten. His one true place is in the professional wrestling show, in hope that he can use Spats to make pro wrestlers fight more convincingly. Seen in the Lilo and Stitch/Proud Family crossover.
Gallery
Ad blocker interference detected!
Wikia is a free-to-use site that makes money from advertising. We have a modified experience for viewers using ad blockers

Wikia is not accessible if you've made further modifications. Remove the custom ad blocker rule(s) and the page will load as expected.