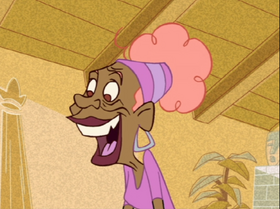 Sista Spice is Suga Mama's psychic sister.
She is claimed by Suga Mama that her parent's seem to have more caring for her because of her mental powers. As Sista Spice arrives in town she was glad to see everyone except her sister. She sent her flying out of The Proud Family House over to Bobby's house. Later as she entertains Penny and her friends with her powers, she chooses Zoey as her kin and teaches her how to focus, using her own powers to make it seem like Zoey is psychic. After that when her show was being held outside in the Proud Snax Parking lot, she attempts to swindle Oscar for money but was foiled by Wizard Kelly and Suga Mama.
Ad blocker interference detected!
Wikia is a free-to-use site that makes money from advertising. We have a modified experience for viewers using ad blockers

Wikia is not accessible if you've made further modifications. Remove the custom ad blocker rule(s) and the page will load as expected.