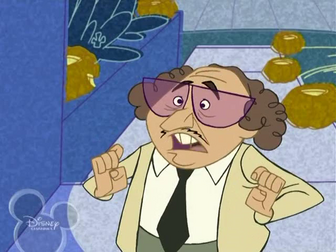 Peterson is the man that lived in the Proud Family house just before selling it to Oscar for $500. In "A Hero For Halloween" he returns to the house to warn Oscar and his family that the ghost of Garrett Krebs is coming to haunt him just like he did to him 10 years ago. But Oscar was too lazy to believe him until the ghost he was warned about appeared to haunt him. Luckily, Oscar and his wife and family survived Kreb's haunting threats thanks to Penny for destroying the ghost and Oscar apoligizes to Peterson for ignoring him and hires him as an employee at The Proud Snacks Factory.
Peterson is the only character in the series to about how the Prouds' remain fiancially afloat, despite the fact that Oscar makes inedible snacks.
Ad blocker interference detected!
Wikia is a free-to-use site that makes money from advertising. We have a modified experience for viewers using ad blockers

Wikia is not accessible if you've made further modifications. Remove the custom ad blocker rule(s) and the page will load as expected.