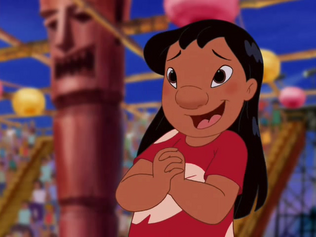 Lilo Pelekai 
is a little Hawaiian girl from the town of Kauai ho hunts down Jumba's other 625 experiments along with Stitch. She was seen in the Lilo and Stitch Proud Family Crossover called Spats. She and Penny had to stop spats when Sugar Mama accidentally it Lilo and Penny both go affected by spats causing them to both fight but thinks do Penny they were turned back to normal. They used Sugar Mama frighting Gantu as a way to get everyone to count to ten at the end Penny got her actile done called The Hawaiian Alien Adventure they took it to Kokawa Town Gazette and they printed it.
Gallery
Trivia
In the crossover Lilo is talking about Shaka which means hang loose and roll with it.
Ad blocker interference detected!
Wikia is a free-to-use site that makes money from advertising. We have a modified experience for viewers using ad blockers

Wikia is not accessible if you've made further modifications. Remove the custom ad blocker rule(s) and the page will load as expected.