---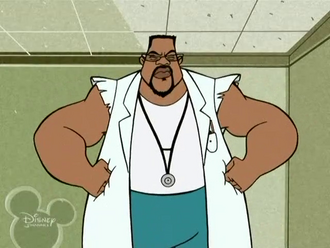 {{PAGENAME
is one of the main doctors in the neighborhood.
He may be a good doctor, but he is a rough one. When it comes to treating injuries of those from Oscar and Felix, it really hurts. He does care for his patient's need for treatment and respects Suga Mama, but he does not even care of Oscar's sympathy and just yells, "Quiet, Fool!" and refuses to take it easy on him, especially when Oscar protests his medical bills. His tough demeanor might stem from the fact that he worked as a military doctor.
Notes
His personality and attitude is an allusion to Mr. T.
Ad blocker interference detected!
Wikia is a free-to-use site that makes money from advertising. We have a modified experience for viewers using ad blockers

Wikia is not accessible if you've made further modifications. Remove the custom ad blocker rule(s) and the page will load as expected.