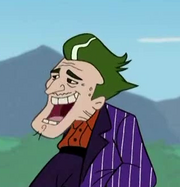 "Papi" Boulevardez
is
Sunset Boulevardez
's father-in-law,
Felix
's father, and
LaCienega
's grandfather.
Due to being close to the same age, he is also the target of Suga Mama's love interest, something he seems ambiguous about returning. Although he is in her constant company, his comments in Spanish indicates he finds her wearisome, and his actions shows a willingness to accept the attention of other older ladies.
Papi usually wears purple clothes, and his styled hair is green, which apparently is due to his age as he has claimed to having black hair when younger[1]. He always laughs after saying something rude to and about Suga Mama in Spanish, knowing she does not understand a word he says. However, it would seem that he can speak and understand fluent English, having done it once[1], but apparently prefers his native language. A genetic trait past down in his family is that all of them have large feet that enables them to swim better than most people.
Notes
He is voiced by Alvaro Guttierez [2].
His comments are caption-translated.
Papi's laugh, together with clothing and hair color makes him reminiscent of an elderly Joker from the Batman franchises.
Gallery
References